Chinese Proficiency Test—HSK
①Have studied Chinese for quite a while? Want to know your Chinese level?
②Need the HSK test score to get admitted to your ideal Chinese university or to graduate from college?
③Want to graduate from school?Now Register for HSK test at HSK test center at the Open University of China accredited by Hanban. Welcome to register for and take the HSK test with us!
If candidates reach a certain size(more than 15 persons), schools can apply for special examination. Please contact our teacher, Ms. Zhang010-57519167, Ms. Tan010-57519163
Time Table in 2017(HSK、Paper-based Test Only):
考试日期
Test Dates
报名截止日期
Deadline for Registration
成绩公布日期
Date of Results Announced
3月19日
19th Mar.
周日
Sun.
2月20日
20th Feb.
4月19日
19th Apr.
4月22日
22th Apr.
周六
Sat.
3月26日
26th Mar.
5月22日
22th May.
5月20日
20th May.
周六
Sat.
4月23日
23th Apr.
6月20日
20th Jun.
6月11日
11th Jun.
周日
Sun.
5月15日
15th Apr.
7月11日
11th Jul.
10月15日
15th Oct.
周日
Sun.
9月18日
18th Sep.
11月15日
15th Nov.
12月3日
3th Dec.
周日
Sun.
11月6日
6th Nov.
2018年1月3日
3th Jan.2018
Time Table in 2017(HSKK、Paper-based Test Only):
考试时间
Test Dates
报名截止日期
Deadline for Registration
成绩公布日期
Date of Results Announces
3月19日
19th Mar.
周日
Sun.
2月20日
20th Feb.
4月19日
19th Apr.
5月20日
20th May.
周六
Sat.
4月23日
23th Apr.
6月20日
20th Jun.
10月15日
15th Oct.
周日
Sun.
9月18日
18th Sep.
11月15日
15th Nov.
12月3日
3th Dec.
周日
Sun.
11月6日
6th Nov.
2018年1月3日
3th Jan.2018
Test Center: The Open University of China
Test Center Code: 9998800
Contact: Ms. Zhang Ms.Tan
Tel: 010-57519167、010-57519163
E-mail: zhangxiangwen@crtvu.edu.cn、tanlu@crtvu.edu.cn
Test Center Address:No.2 Weigongcun Road, Haidian District
Transportation:Exit D, Weigongcun Station, Metro Line4
Map: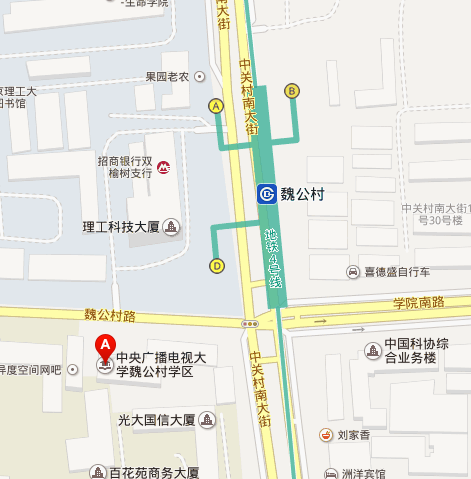 Registration and payment for the test:
1、Landing Website:http://www.chinesetest.cn
2、Choose Language:English、日本语、한국어、Русский язык、 French
3、Fill in the registration information form
4、Choose Test Level
5、Choose Test Site:Test Center Code,Test Center Code:9998800
6、Fill in your personal information form (make sure the information is complete and correct)
7、Upload a photo (JPG, less than 100KB,two-inch form)
8、Confirm and Submit the Registration
9、Pay the test: Complete the payment before deadline
10、Receive the test registration confirmation
11、Print test admission ticket
12、Articles Carried for the test
Test admission ticket
Identity certificate (copies are invalid)
Pen, 2B pencils (two or more) and eraser
13、Score enquiry